We develop new machine designs and technically update existing machines and equipment to comply with international standards and norms (GAMP5, CFR.21, FDA, ISO.S.95).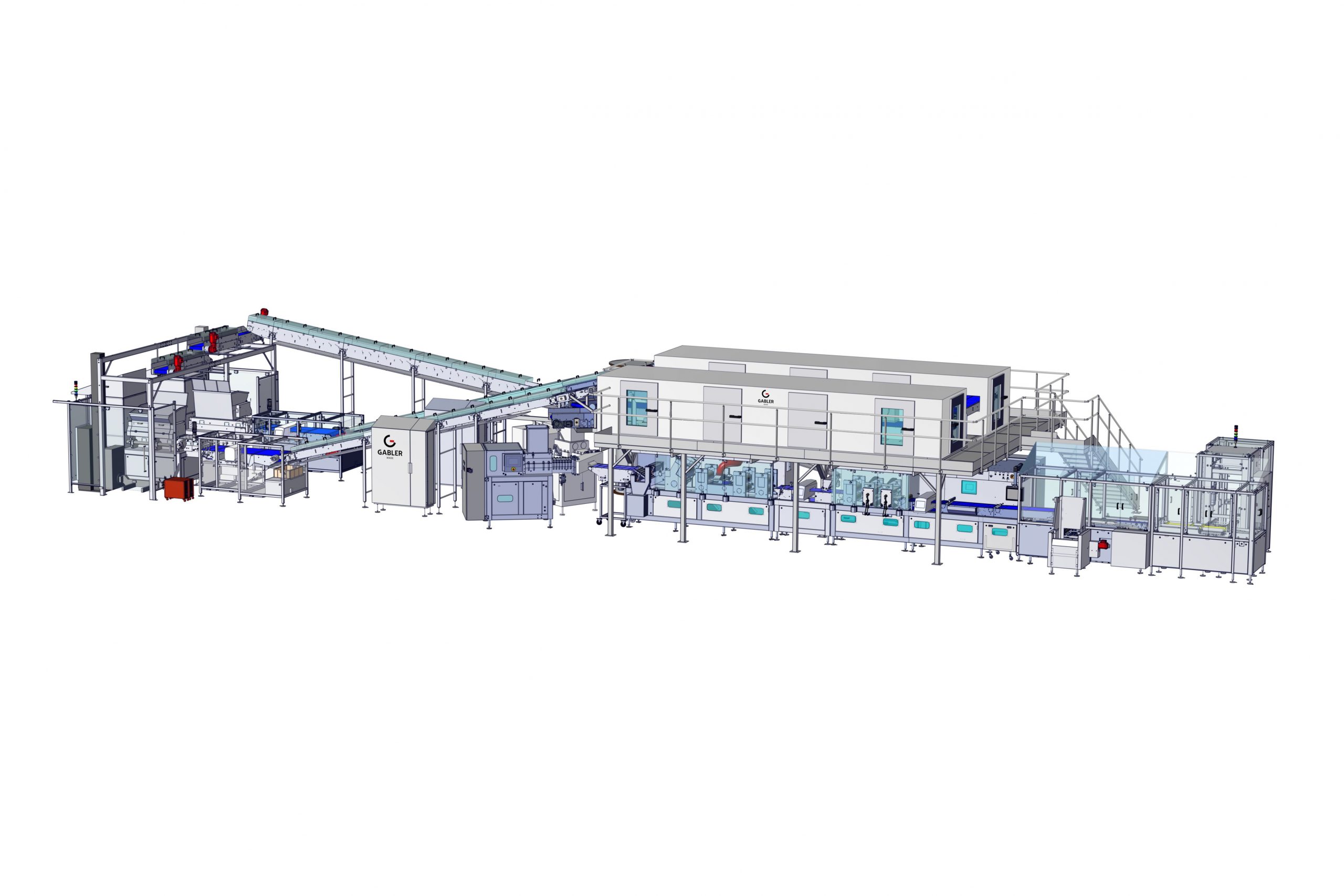 Rolling and Scoring lines
Rolling mills for sticks, dragées and tab gum
An extruder produces a continuous chewing gum sheet, which is rolled out and cut by the rolling unit according to customer specifications. Numerous options, such as pre-extrusion systems, cooling tunnels or automatic take-off systems can be implemented to homogenise the product properties and optimise the process.
Capacity & options:
From 1000 kg/h up to 4500 kg/h
From 7" to 24"
Product applications:
Tab gum
Stick gum
Special chewing gums: Layers (2-3 layers) or filled chewing gums (liquid or powder)
Dragee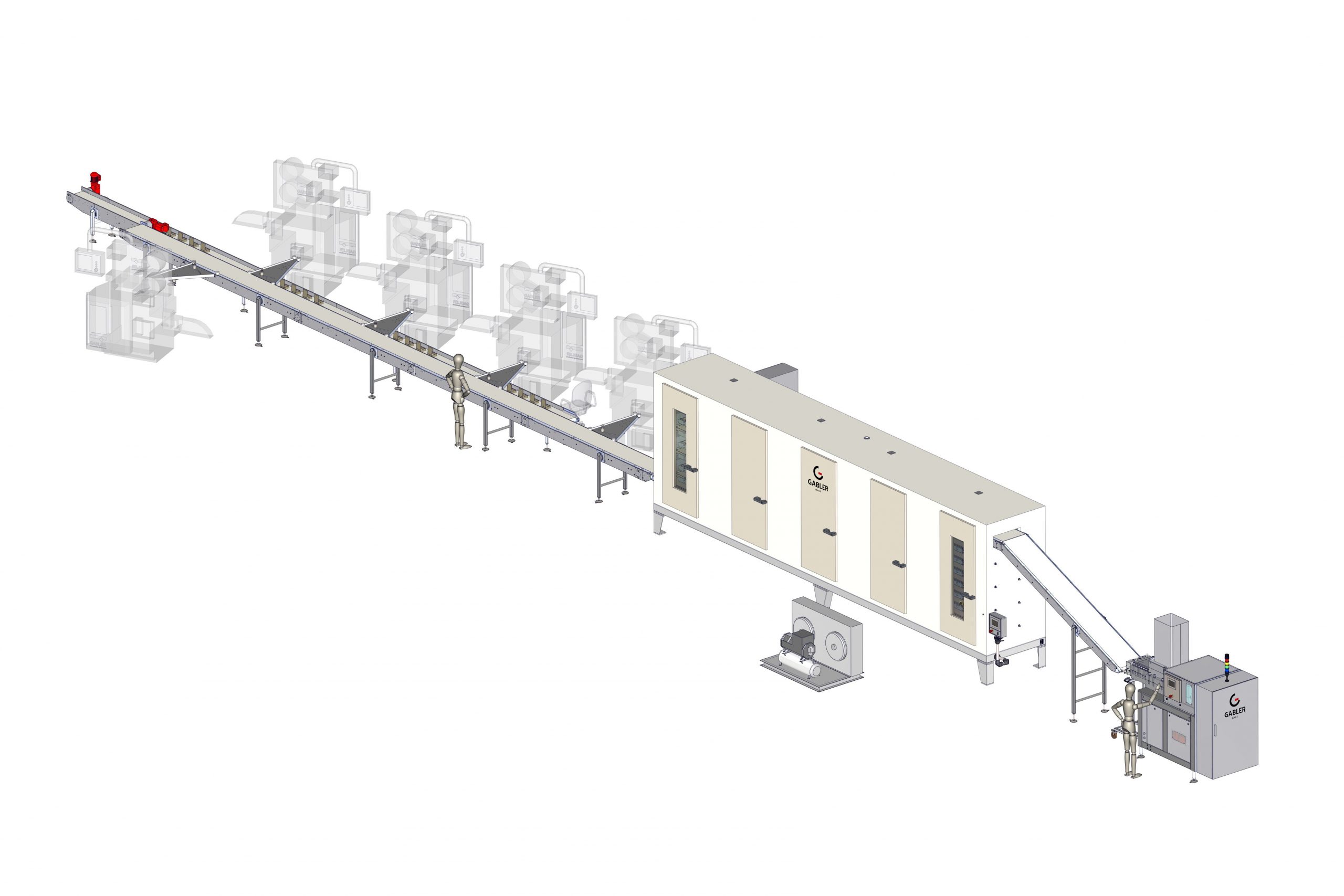 The line consists of an extruder which forms several endless strands and a cooling tunnel with up to 13 levels. The product is then transported to the individual packaging machines.
Capacity & options
Up to 2000 kg/h
Extruder combination
Product applications
Tab Gum
Bubble Gum
Special chewing gums: Layers (2-3 layers) or filled chewing gums (liquid or powder)
Chewy Candy and Toffee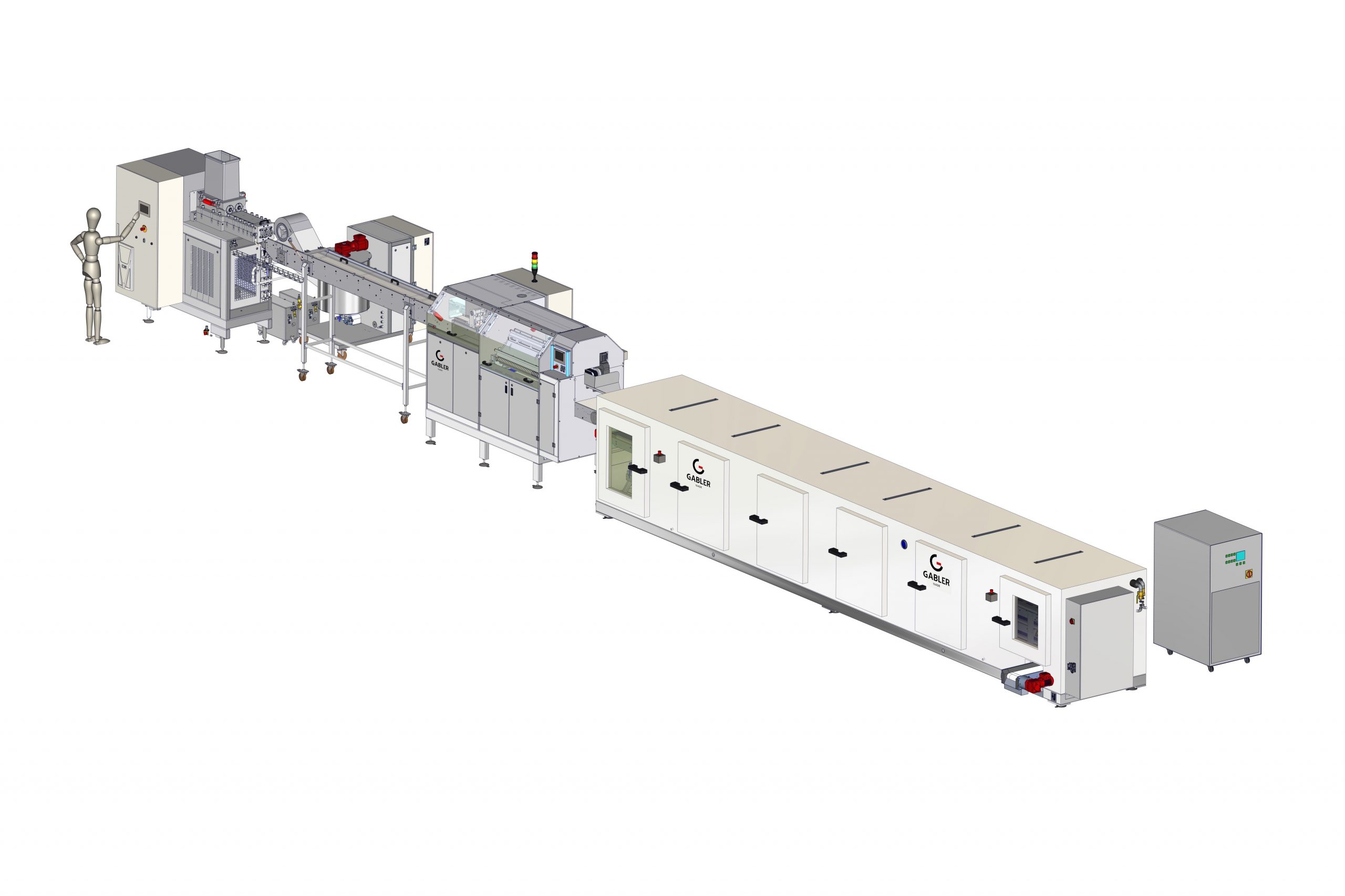 The ball rolling line starts with a single-screw extruder with feed rolls and forms two endless strands of chewing gum. The heart of the line is the ball forming machine, which cuts the extruded strands and forms balls or other rotationally symmetrical shapes. The sphere moulding machine can process two strands at the same time and is thus one step ahead of the competition. The cooling tunnel then stabilises the product shape.
Capacity & options:
Up to 900 kg/h
From 10mm to 28mm diameter
Product applications:
Balls filled with powder
Balls filled with liquid
Hollow balls
Full balls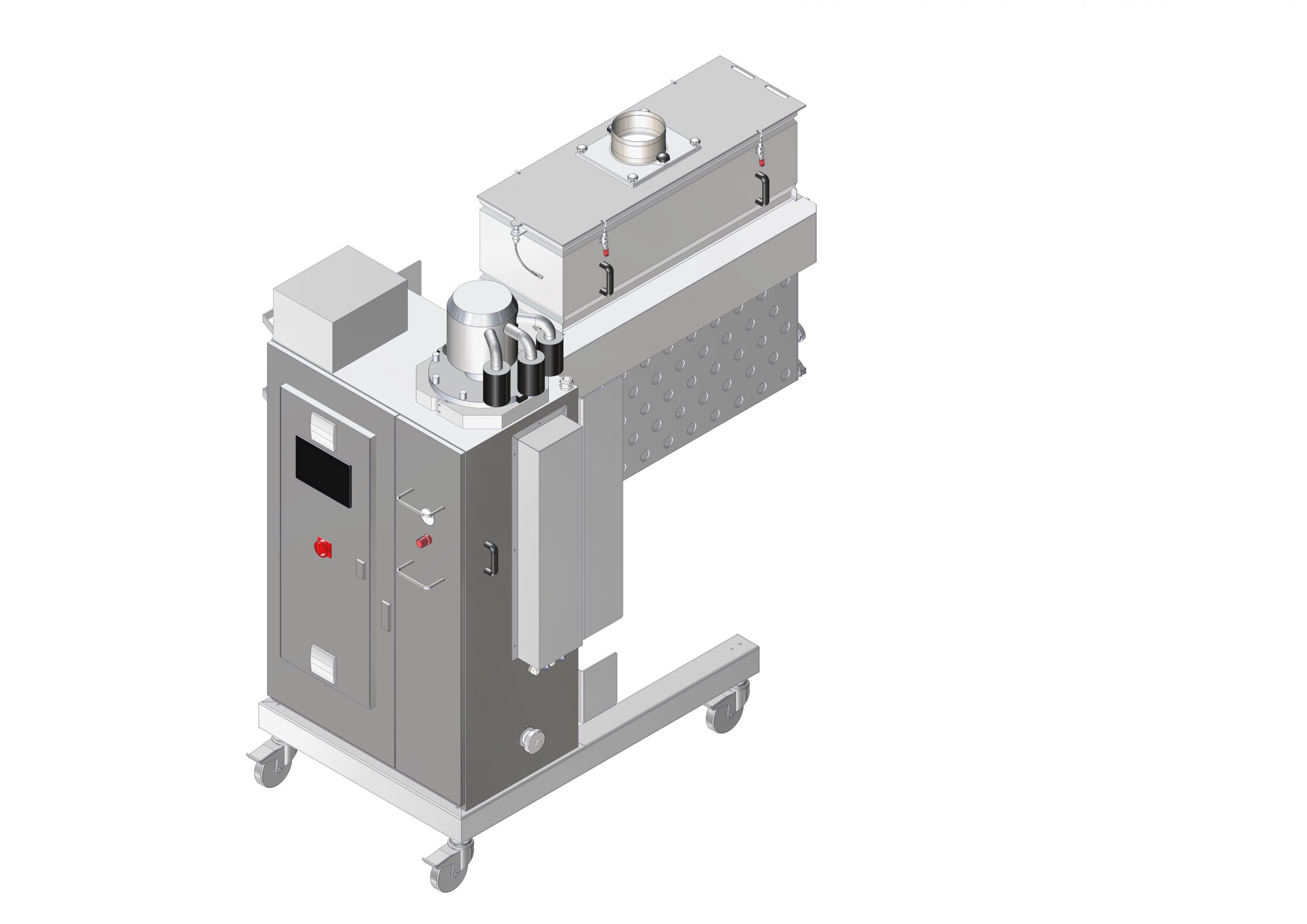 Spray technology - Spray equipment - Spray booths - Spray systems
Gabler spray booths can be integrated into a moulding line to spray a barrier or decor, at speeds of up to 25 moulds per minute.
Application:
Sugar sprays and other liquid solutions
Chocolate spraying
Film spraying
Other viscous masses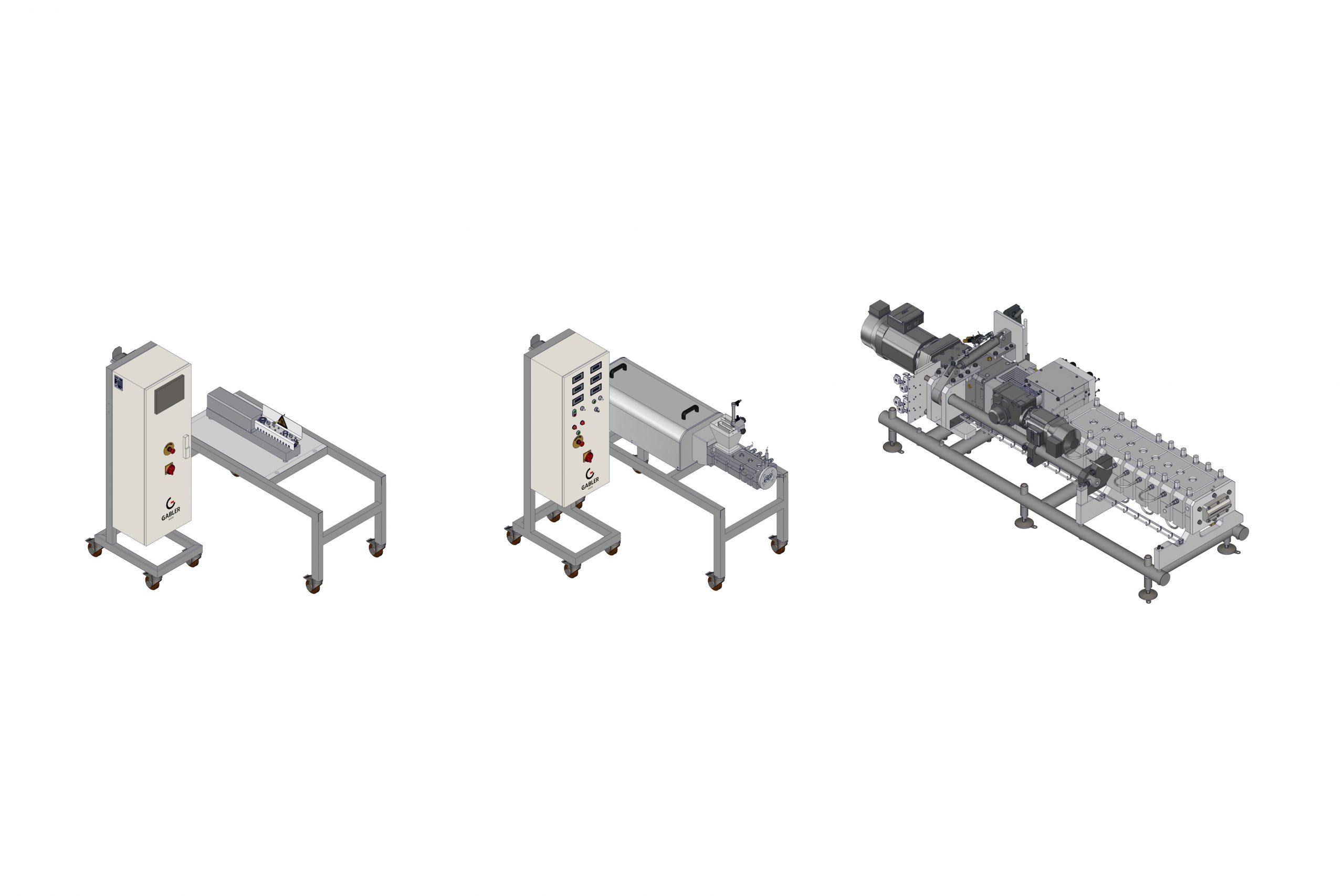 PRE extruder - Main extruder - Laboratory extruder
Extruders with independent heating zones according to user requirements deliver the required accuracy for each confectionery product. Our process parts can be opened manually or automatically for cleaning, allowing quick product changeover and flexible screw handling.
Depending on the application, the machines can be integrated into a complete line or act as a stand-alone machine.
Capacity & options:
From 200 to 5000 kg/h
From laboratory size to 24" product width
Product applications:
Endless bands or strands of chewing gum
Liquid or powder filled strands
Layer Gum (2-3 ply)
Versions:
Twin screw extruder counter-rotating with or without feed rolls
Single screw extruder with feed rolls
Twin screw pre-extruder with larger hopper
Extruder combinations 
Filling extruder with feed rollers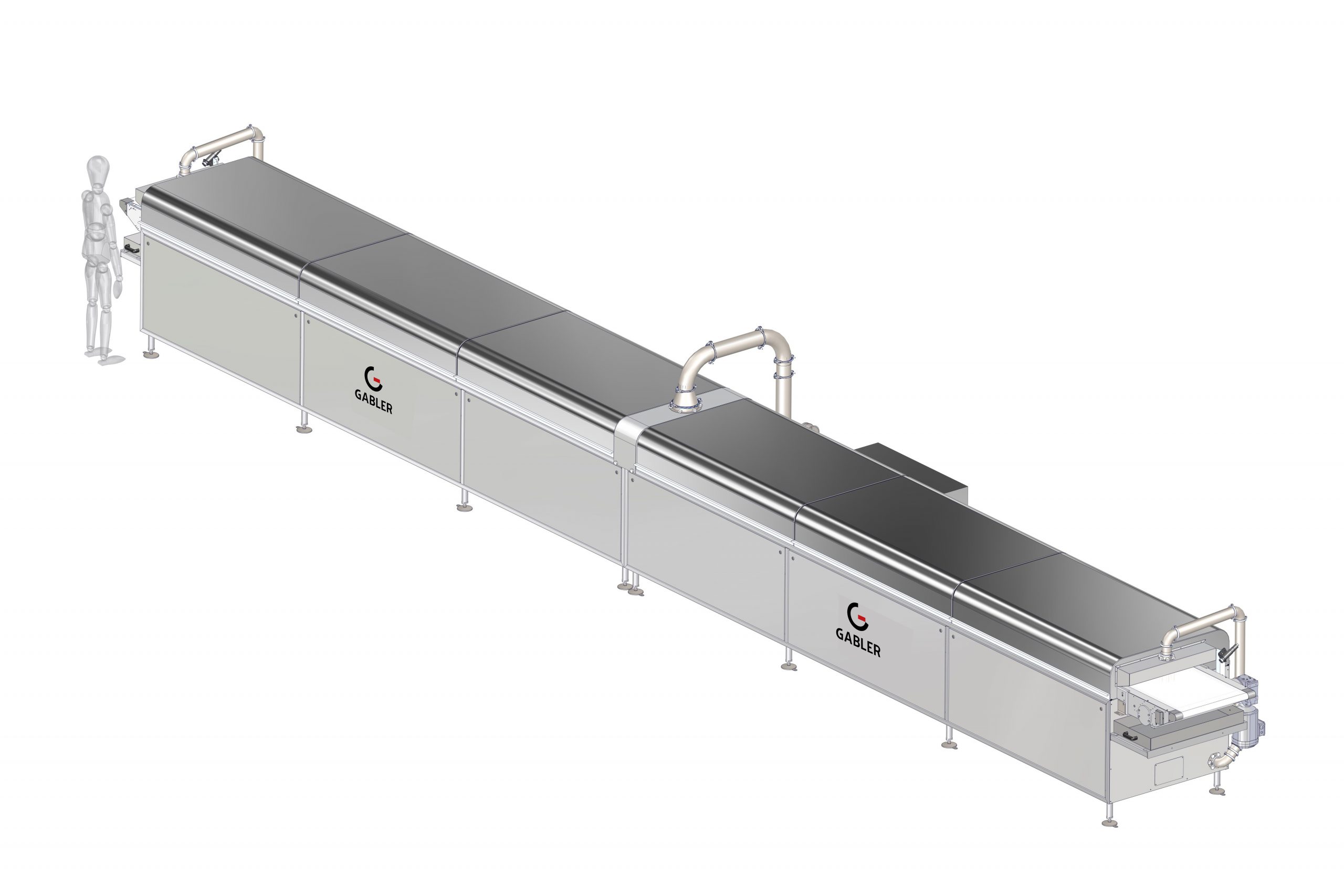 Our cooling tunnels / heating tunnels are well insulated inside and out using the "sandwich system". The modular design allows numerous configurations according to customer requirements and any space constraints. Depending on the line or application, there are three different types.
Capacity:
Versions:
Pre-cooling tunnel / Pre-heating tunnel
Intercooling tunnel
Cooling tunnel / heating tunnel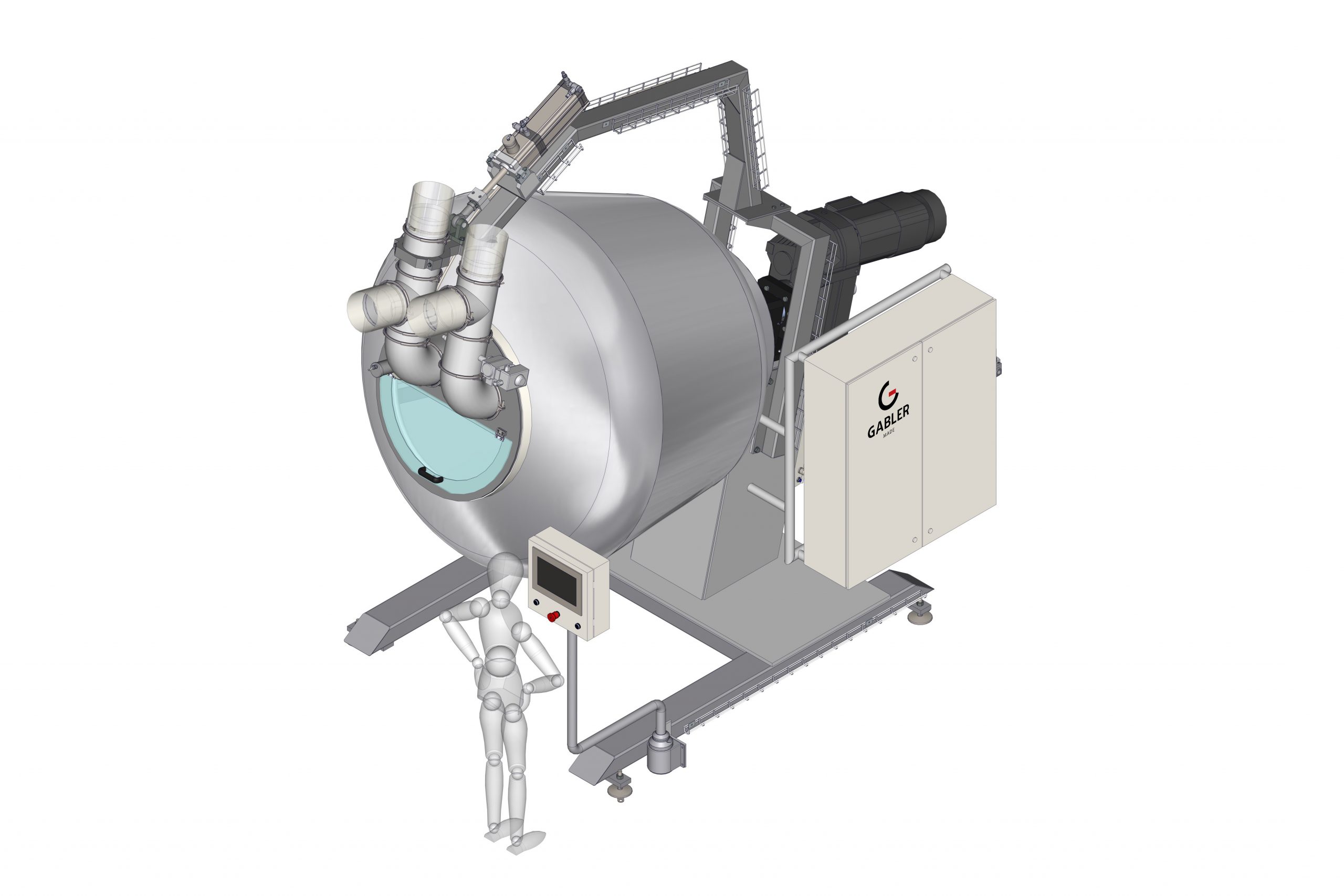 Coating machines - fixed or swivelling - Laboratory coating machines
Gabler supplies fully automatic coating systems with a boiler in onion or pear shape, depending on the application. Our innovative spray technology and extensive drying system ensure the shortest coating times in this sector. Recipe management and individual adjustment or regulation of the coating angle offer various possibilities to improve existing coating processes or test new ones before scaling them up to a production line.
Capacity
from 20 kg to 1000 kg per batch
Application
Hard/soft sugar coating
Chocolate coating
Caramelise / Burn
other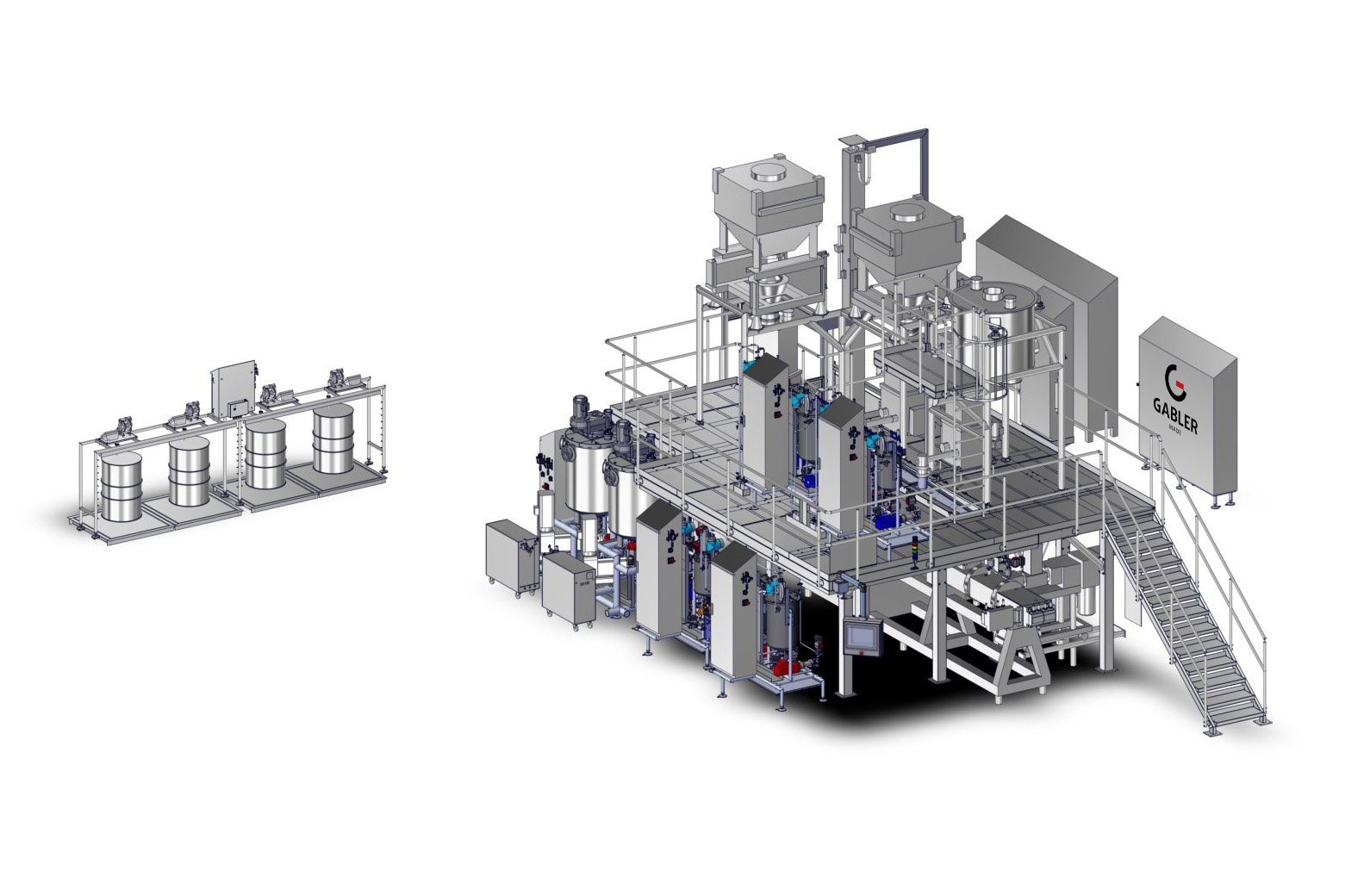 The Gabler continuous mixing system with high-precision metering units automatically feeds both liquid and solid ingredients into a mixing extruder. The continuous mixing process produces a product that offers superior uniformity compared to any batch process.
Capacity:
Application:
Chewing gum: cut & wrap lines, rolling machine lines, ball rolling lines (sugary or sugar-free)